The Gentleman is a new and innovative Australian company normalising male self-care – starting with simple and effective skincare. On the surface, The Gentleman may look like another skincare brand for men. However, their mission is much more ambitious than hydrating faces. They encourage men to take better care of themselves, both inside and outside.
The Gentleman approached Brandwell to build their brand story from the ground up. They wanted an easily recognisable brand that could communicate both of their goals. We worked together to develop a clear brand strategy and position, including verbal and visual identity, package design, website design, app creation, and digital marketing.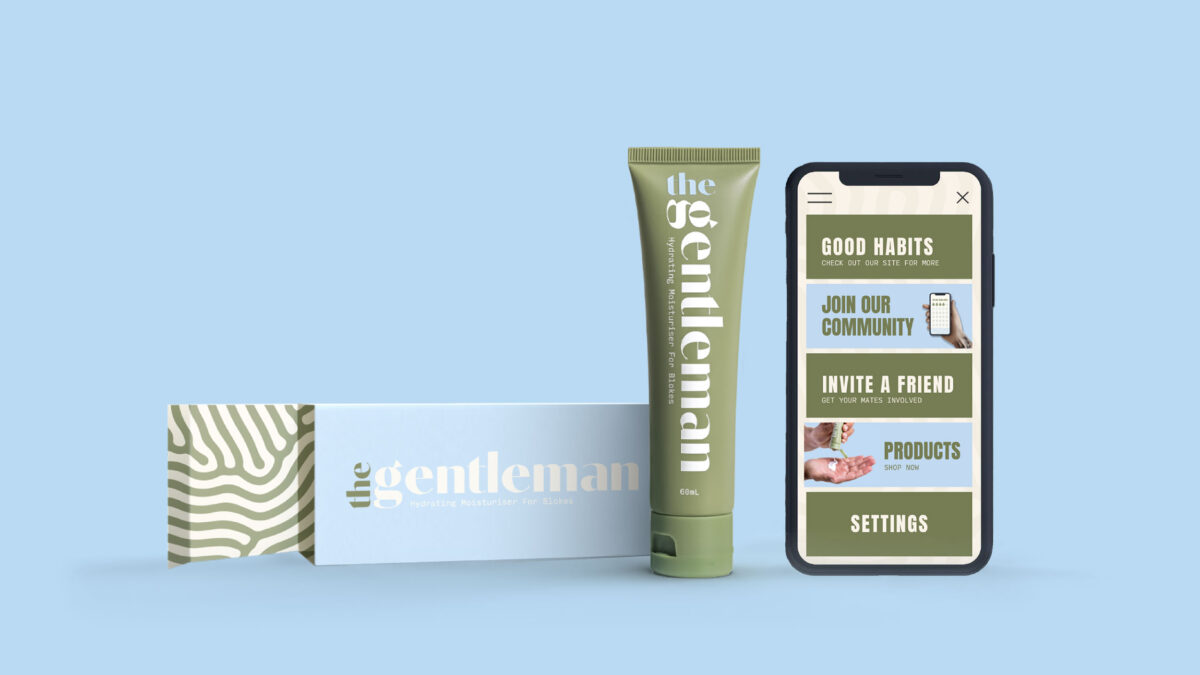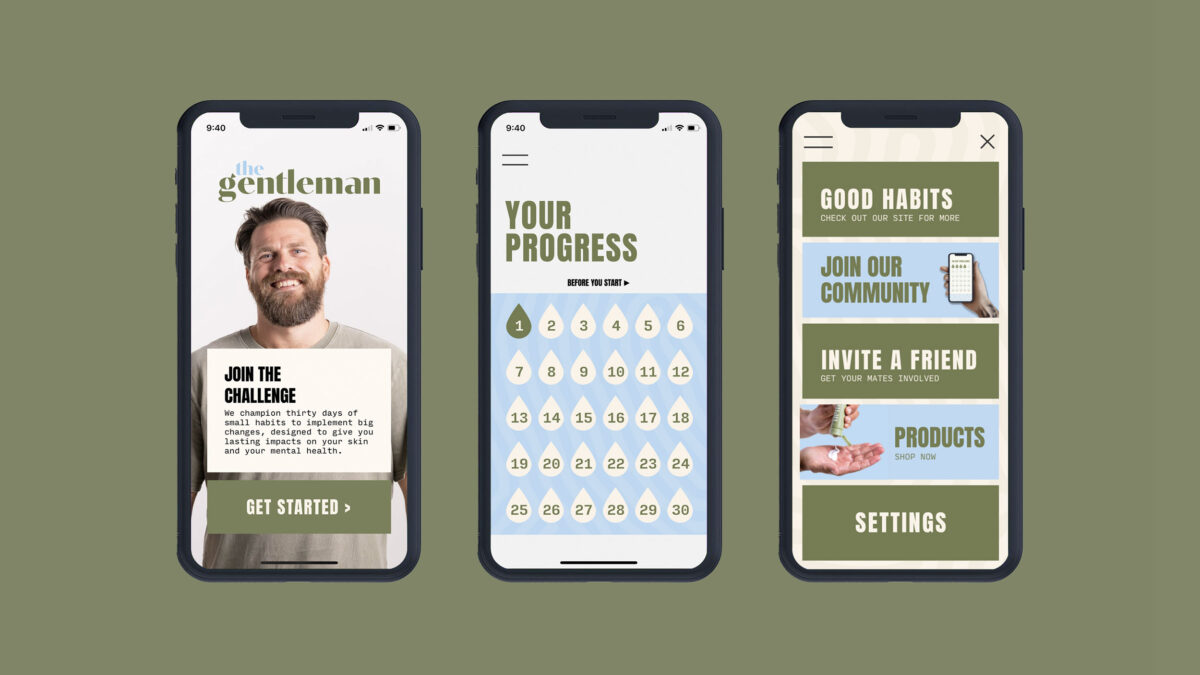 Background
Building a new brand from scratch is an exciting project; however, without the proper support can become overwhelming. Aspiring to be more than a skincare brand, The Gentleman needed help effectively communicating their multiple goals. How to address men's mental health authentically, while also promoting a product, and not coming off too 'salesy'. What was the best communication method to help men improve their mental health? Whether it was a digital workbook, website, or email campaign, it had to be easy to use, engaging, and fun.
The language and visuals also needed to reflect the same values while inspiring their community. Above all, the brand had to have a beautiful aesthetic and be easily recognisable. The products had to be simple yet attractive enough for men to display on the bathroom shelf proudly.
Our journey with The Gentleman looked like this:
Clarifying their opportunity in the market
Defining audience personas
Developing an engaging brand story
Creating a recognisable visual and verbal brand identity
Executing agreed deliverables
Solution
Brandwell and The Gentleman consulted extensively, with research stages and branding workshops. We established the project's direction and clarified brand values, pain points, and goals. The main goal was to create a comprehensive brand strategy using market research, audience personas, and brand positioning.
Competitor analysis was at the core of this campaign. Better understanding the landscape of this saturated market established a clear brand position. Brandwell developed a fun, approachable, and down-to-earth brand story – brought to life with an engaging visual and verbal identity. We set photography guidelines, graphic design elements, and bold typography. We then incorporated brand language and imagery throughout product design, website development, app design, and digital marketing to build a recognisable brand.
Encouraging men to create healthier habits required user-friendly, convenient, and entertaining technology. To implement The Gentleman's idea of introducing a "30-day challenge," we agreed on a custom app. Creating thirty daily challenges would give men enough time to develop new habits. At the same time, the app reminders, custom features, and games would keep them engaged and motivated.
"Creating an app drew on our competitive and playful nature – without overwhelming our customers' daily routine" – The Gentleman.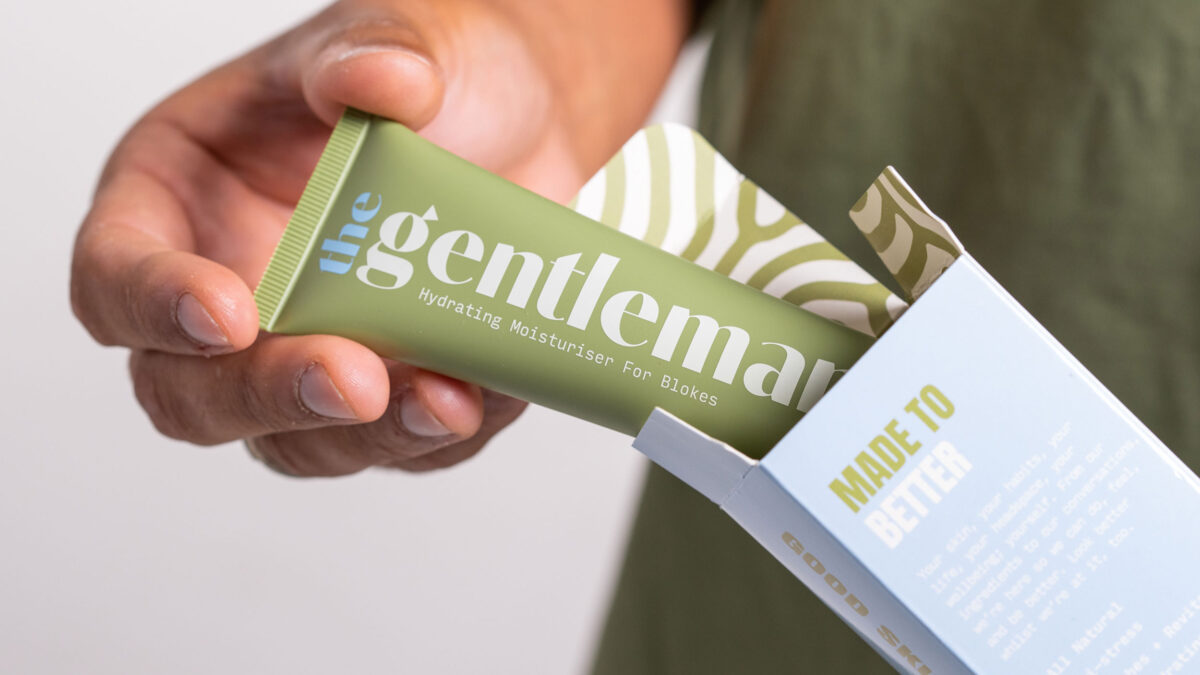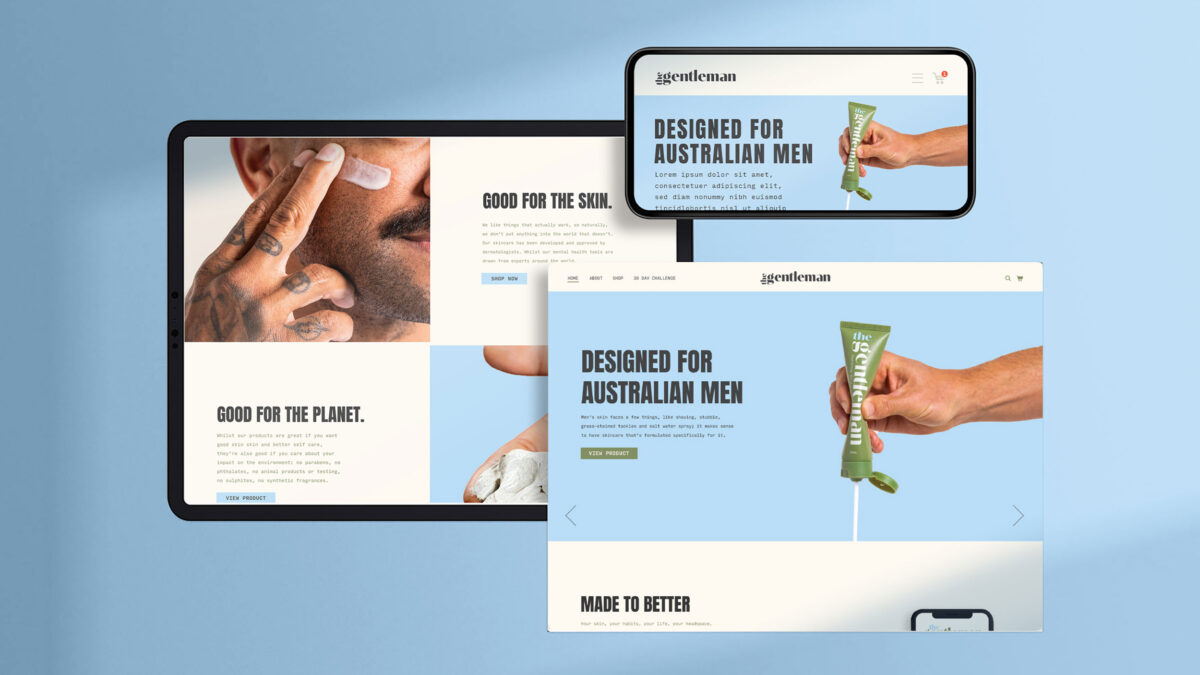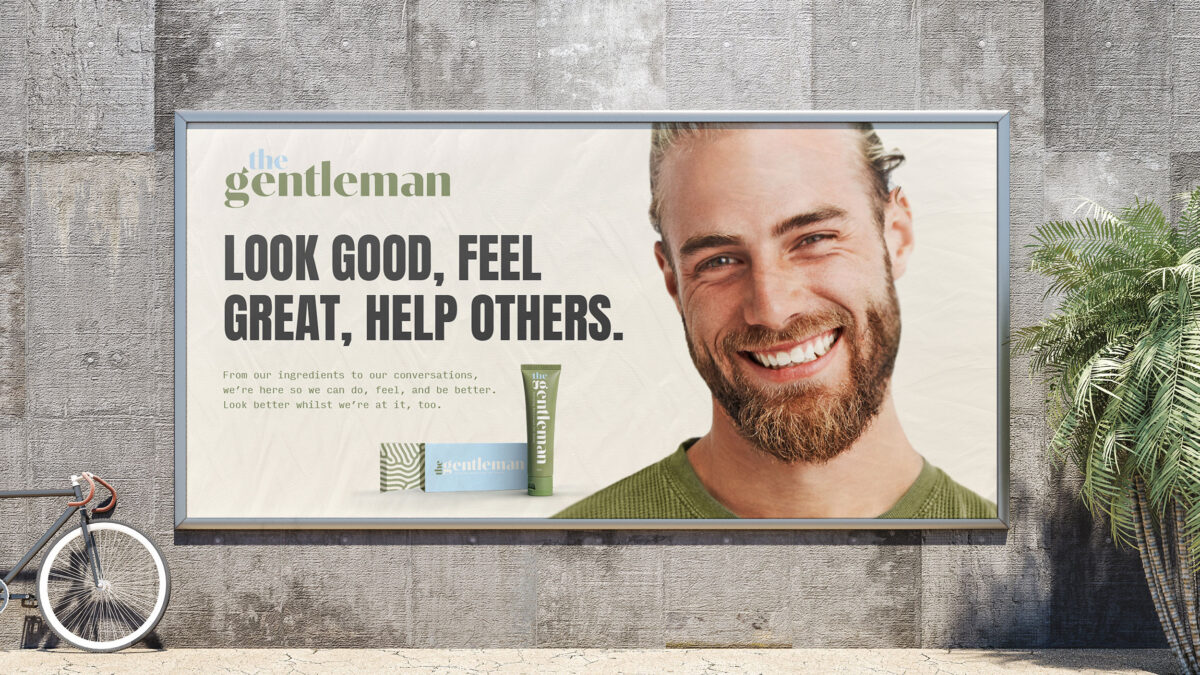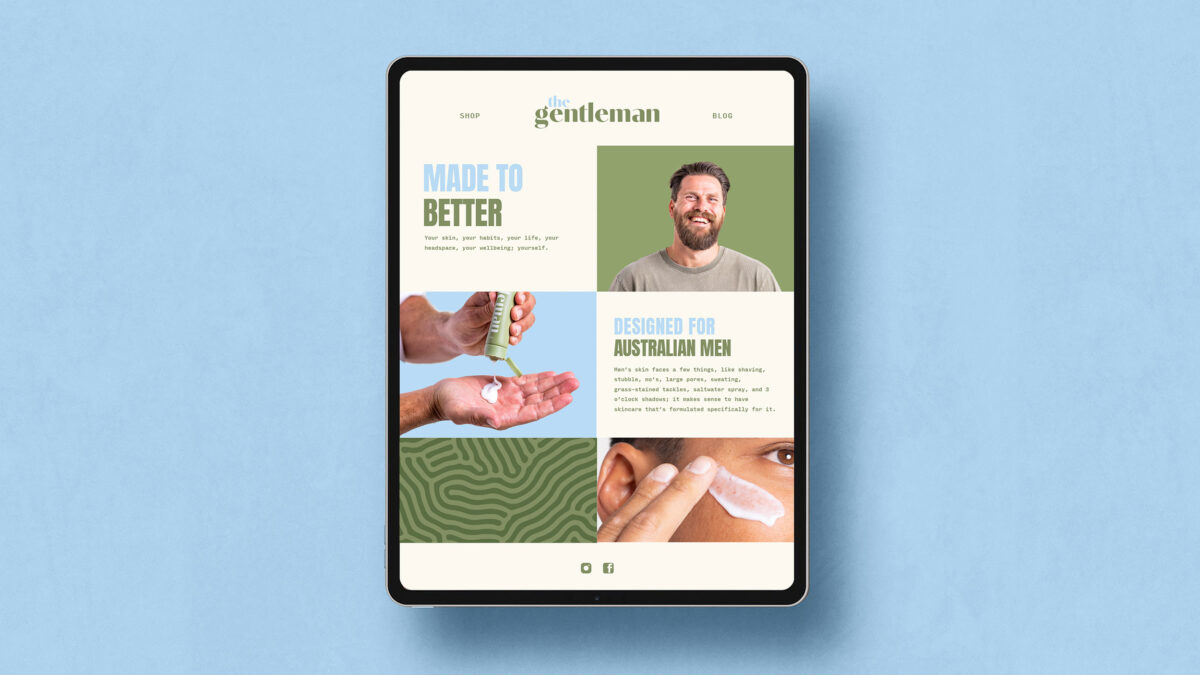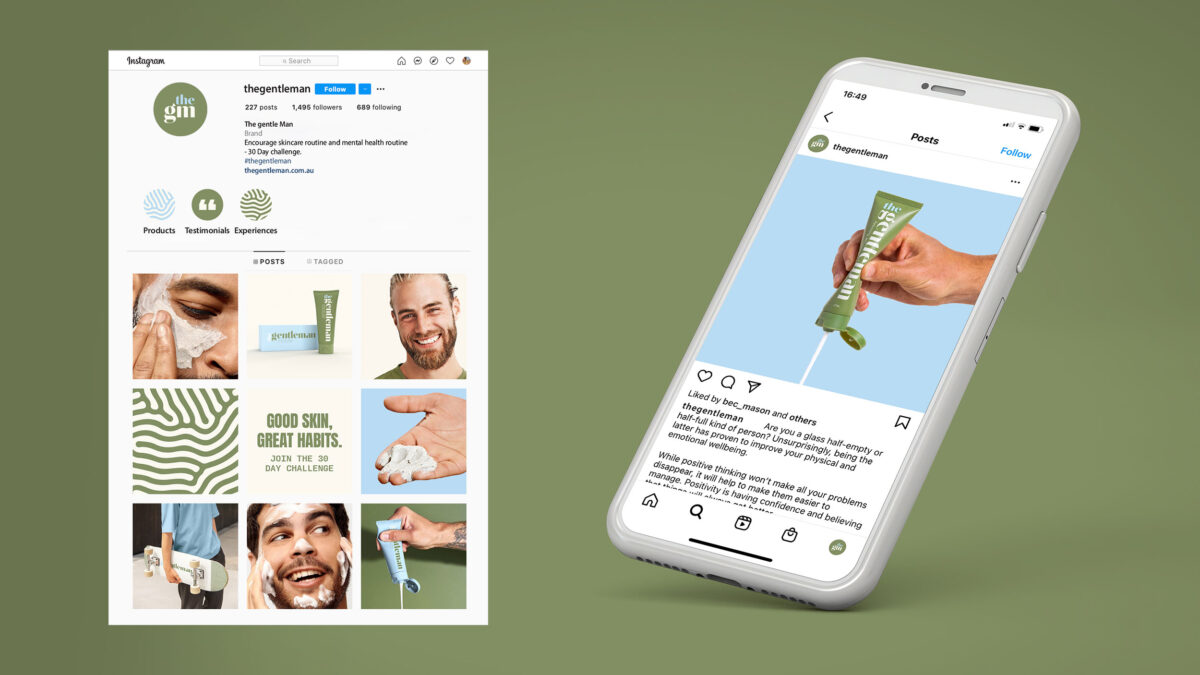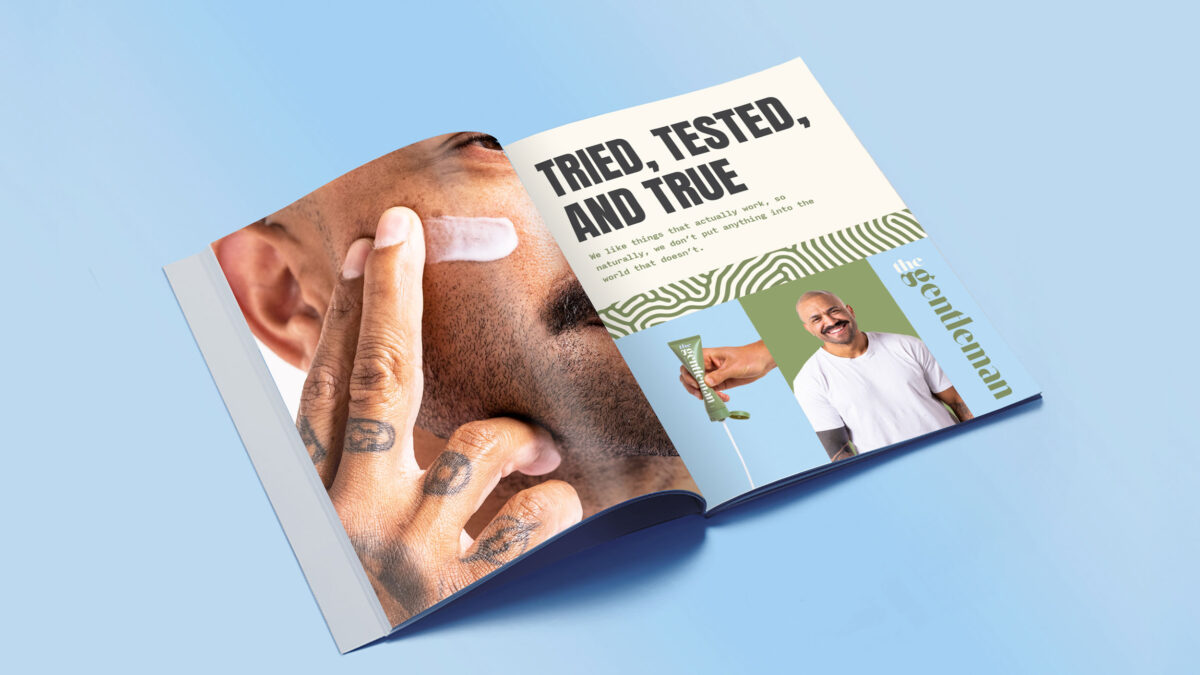 Branding Strategy
Creating a strong brand strategy is essential to any successful business, but what does it involve? For the Gentleman, brand strategy encompassed the following deliverables:
VERBAL IDENTITY
As Brandwell built the brand story from scratch, we established everything from tone of voice to the target audience. What words resonated with The Gentleman's customer? Were they lads, men, or bros? We used the company's core values and audience personas to develop a simple, down-to-earth, and slightly blokeish brand language. Brandwell also developed the iconic master-brand line – "Good for men, Great for skin".
VISUAL IDENTITY
The Gentleman wanted their products to be recognisable, which to us meant, with just a glance. However, we needed more than an eye-catching logo. Brandwell designed a specific colour palette, typography, and imagery to resonate with their audience. The result was a combination of blues and greens with bold text and a simple logo design. We used these assets in everything from the product design to the Instagram layout for consistency.
WEBSITE DESIGN + COPYWRITING
With visual and verbal brand identity established, it was time to launch the brand into the world. The Brandwell team designed a sleek Shopify website with full eCommerce capabilities. We used custom integrations to enhance customer experience and professional copywriting to communicate key messages in The Gentleman's tone of voice. The website would act as more than an e-commerce platform. It was where men could learn about the thirty-day challenge and download the mobile app.
APP DESIGN + DEVELOPMENT + COPYWRITING
Brandwell developed a custom app to help men create new habits and improve their mental health. Its design reflected the brand's visual and verbal identity. From task instructions to daily motivation, our copywriters maintained the tone of voice. The layout also reflected The Gentleman's colour palette, imagery, and typography. Its user-friendly functionality with a full suite of digital assets delivered the challenges. We needed to think of and execute thirty on brand challenges. These were creative tasks like buying a coffee for a stranger, organising a catch-up with mates, or moving your body.