What is brand architecture? | Brandwell
30 November 2022 | By Brandwell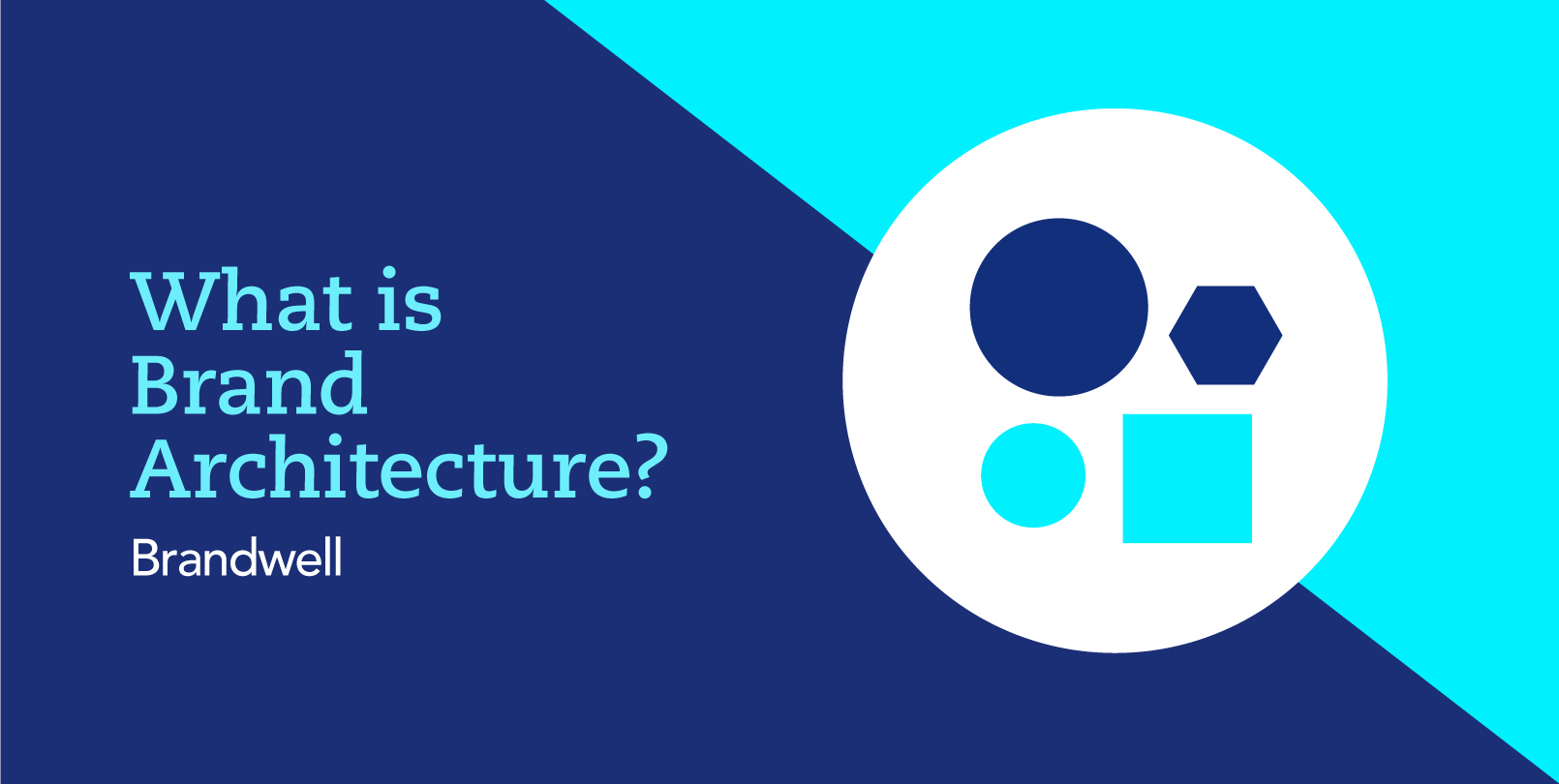 Brand architecture explained
Every business starts small. As these businesses begin to grow and establish stronger brand identities, it is not uncommon for them to begin breaking into new markets, acquiring smaller brands, or merging with other companies to reach even greater heights. This is where brand architecture comes in.
When a brand launches a new line of products or creates an entirely separate brand that offers different services, brand architecture comes into play to clarify the structure or relationship between the original (parent) brand and the new additions. It is an important system that boosts brand recognition and keeps customers in the communications loop.
In this article, we'll shed more light on brand architecture, how it works, and how it impacts the overall branding strategy.
What is brand architecture?
Simply put, brand architecture is a well-designed structure of all the products, services, and brands within an organisation. If a master brand is a house, then the various rooms within that house are the sub-brands. Naturally, each room serves a different purpose or caters to a specific audience, but at the end of the day, all the rooms are related to each other somehow, and they coordinate to make the house a beautiful, functional space. A good brand architecture will clearly define the role of each sub-brand and show how they connect to tell the overarching brand story.
Brand architecture is an important system or technique used by brand strategists to create a consistent brand identity that customers can easily recognize and relate to. It showcases your brand's values and gives insight on how best to sell a new product or service.
Why is brand architecture important?
The main purpose of brand architecture is to keep your brand organised both internally and externally. Without this order or structure, it would be difficult for brand strategists and creative teams to build a solid brand identity. Elements of brand architecture, such as images, language, colors, and style guides, are used to improve and maintain brand consistency across your marketing. This is important because, according to a report by Lucidpress, consistent branding can result in an increase of sales by 33%. In other words, customers' perception of your brand has a strong impact on your revenue. Brands with a consistent image, message, and set of values are more likely to be trusted and remembered by customers. Design uniformity also makes your brand easily recognizable, thus increasing brand awareness.
Another importance of brand architecture is that it allows for effective brand positioning and audience targeting strategies, thereby tapping into future offerings. By opening more doors in business, it facilitates healthy brand growth.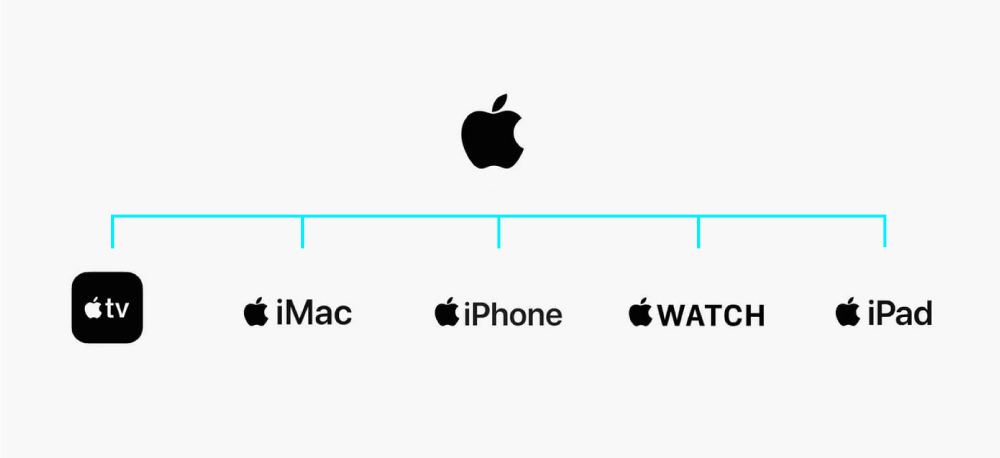 How does this impact the branding strategy?
Brand architecture is a strategic tool or system that manages brand portfolios. As brand portfolios expand, the overall branding strategy becomes complex and requires more clarity. Brands that have implemented a good brand architecture framework save time during the expansion process because key details, such as the identity of sub-brands and their relationship, have already been laid out and organized. Nestle, for example, has an established coherent brand architecture framework that supports its evolving nature. If the firm decides to roll out a new product, the strategists would already have a great structure to work with. You can also be sure that their customers would receive it well because the brand identity and message — Good food, Good life — are clear and have been consistent.
Because brand architecture is strategic in nature, it is a fundamental component of any effective brand strategy. It serves as a guide for brand strategists, enabling them to implement better brand management practices, as well as superior conversion marketing strategies.
What are the benefits of this?
We've discussed why brand architecture is so important. Now, let's look at the main benefits your brand can get from this framework.
Better brand clarity:
Brand architecture tells the story of every product, service, or brand included in your brand portfolio. It clarifies the identities and offerings of each sub-division for all your stakeholders. When your target market, employees, and investors have a better understanding of your brand's message and properties, they will have more confidence in your brand.
Positive brand equity:
Clear and consistent branding can help create positive customer perception and behavior, which translates to positive brand equity. Brand architecture increases your brand's perceived worth (by customers) by presenting relatable and recognizable themes across your sub-brands, via the different marketing channels you use.
Defined target market:
One of the major benefits of brand architecture is that it helps you narrow down your target market so you can tailor your brand message to fit the specific needs of your primary audience. A focused target market allows for the implementation of more successful and cost-effective marketing strategies.
Increased sales and revenue:
Brands with well-defined brand architecture can benefit from cross-promotion and cross-selling. When the links between your products or sub-brands are clear, it would be easier for you to promote and sell products that complement each other. You would also save on marketing and advertising costs because your customers would already be aware and familiar with your main offerings.
Expansion opportunities:
Brand architecture is a system that encourages and improves brand flexibility. It enables brands to adapt quickly to changes and provides room for growth. When your brand is effectively managed and organized, expansion projects will go much more smoothly.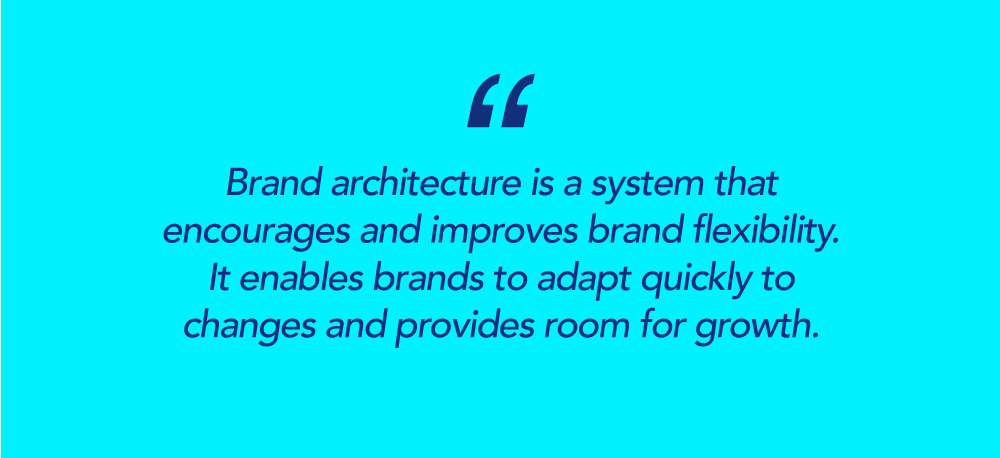 Types of brand architecture
There are three types of brand architecture. These include
Branded house
House of brands
Endorsed brands.
Branded house
Branded house is perhaps the most popular type of brand architecture. In the branded house model, there is just one master brand with many sub-divisions that feature key elements such as the Logo, Color Palette, Typography and Image Styling, Brand Story, Master-brand Line, and Key Messaging- Language and Tone of Voice. A great example of a brand that takes the branded house approach is Google. Google is the master brand, and its products like Google Maps, Google Docs, Google Sheets, and Google Calendar, all use the Google house name, even though they serve different purposes. Another example of a brand that uses the branded house structure is the Virgin Group, which offers Virgin Mobile, Virgin Money, Virgin Pulse, and so on.
House of brands
In house of brands, the sub-brands under the parent brand do not share the same visual or verbal identity. This model allows each sub-brand to have its own unique story and brand identity. Companies that adopt the house of brands architecture can have multiple products (under one parent brand) competing with each other in the same marketing segment. One of the best examples of brands that use the house of brands model is Yum! Brands. This fast-food corporation is the parent brand of Taco Bell, Pizza Hut, KFC, WingStreet, and The Habit Burger Grill. If one of the sub-brands, say KFC, faces a crisis, the other sub-brands will be unaffected because they are independent of each other, as well as the master brand.
Endorsed brand
Like the house of brands architecture model, endorsed brands have their own identities. However, there is still a clear connection between them and the master brand. For endorsed brands, consumers easily recognize the master brand behind them. The sub-brands can either use marketing strategies that are reliant on the master brand's equity, or they can develop new independent strategies, but the master brand will always be in the picture. A brand that uses the endorsed brand structure well is Nestle. Nestle has endorsed several sub-brands or products like KitKat, Milo, Nescafe, and Smarties. Another popular example of the endorsed brand architecture is Marriott International which features Residence Inn by Marriott, JW Marriot, Sheraton, and Westin Hotels & Resorts.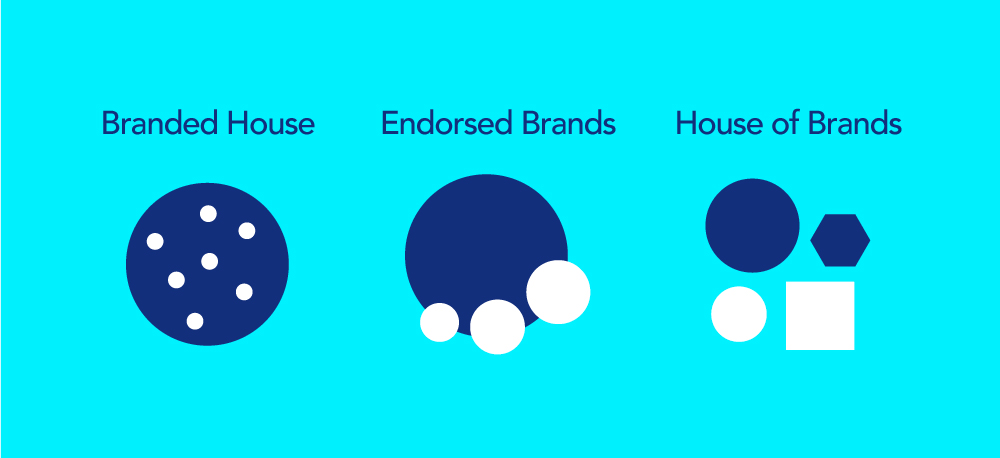 Key takeaways
Brand architecture can take your business to the next level. It'll give you an edge over your competition, increase your revenue, boost your brand awareness, and lots more. However, these results will only be achieved if you apply the right brand architecture strategy and type. If you're torn between endorsed brand, house of brands, and branded house, or you're not even sure how to build a brand architecture, there's no need to panic. We at Brandwell offer quality brand design, brand strategy, and brand marketing services that will elevate your brand and push your business in the right direction.
For more information about our services, contact us here. We are excited to embark on a fulfilling branding journey with you!
Brandwell – Creative Branding Agency Melbourne